Iran Culture House, New Delhi is working for the promotion of mutual understanding and cultural co-operation among peoples in India and Iran in line with the principles of our cultural heritage. Our aim is to create enduring partnership between Iran and other cultures, and we do this by creating opportunities to connect with the latest skills, ideas and experience from Iran. Our activities in the field of culture is to promote mutual understanding among peoples of different cultures, to preserve and promote cultural heritage, both tangible and intangible, and to enhance the cultural activities and creativity.
This special library has more than 30,000 books on topics like Persian language and literature, History, Philosophy, Humanities, Art, Psychology, Reference Books, Encyclopedia of the Culture and Civilization, History of Iran,History of India, Islamic studies and Sufism. Besides a good number of bilingual and multilingual Persian dictionaries have also been obtained for the benefit of scholars. Religion is the one of the focused subject of this library collection which contain the most important books on the topic of jurisprudence (fiqh), principles, Hadith, Holy Quran and its interpretation. This library has two other sections i.e. Iranology and Indology in English, Persian, Urdu and Hindi language. Besides book, lot of journals and magazines on the different topics published in India and Iran are available in the library.
The membership of the library is open to all . Teachers, Student and Interested people can consult Iran Culture House library from Monday to Friday from 9.00 A.M. to 5.00 P.M.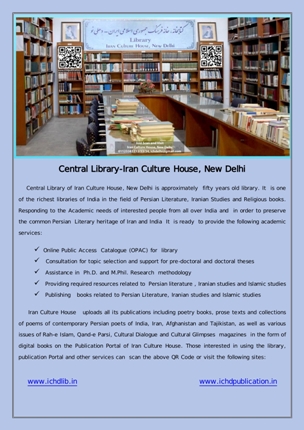 Services Offered
Responding to the Academic needs of interested people from all over India and in order to preserve the common Persian Literary heritage of Iran and India It is ready to provide the following academic services:
Consultation for topic selection and support for pre-doctoral and doctoral theses
Assistance in Ph.D. and M.Phil. Research methodology
Providing required resources related to Persian literature , Iranian studies and Islamic studies
Publishing books related to Persian Literature, Iranian studies and Islamic studies
Persian Literature

Persian Literaure is one of the foucused subjetc in this library and more than 6000 titles are available on different topics of ancient persian,Avesta,Prosody,Anthology of Persian Prose and Poetry,Diwans of all renowned Persian Poets including Daqiqi Tusi,Rudaki,Attar,Omar Khayyam,Ferdosi,Saadi,Molana,Hafez,Nezami Ganjawi,Saib Tabrizi, Bidel Dehlawi. Besides a huge collection of contemporary prose and poem works are available here.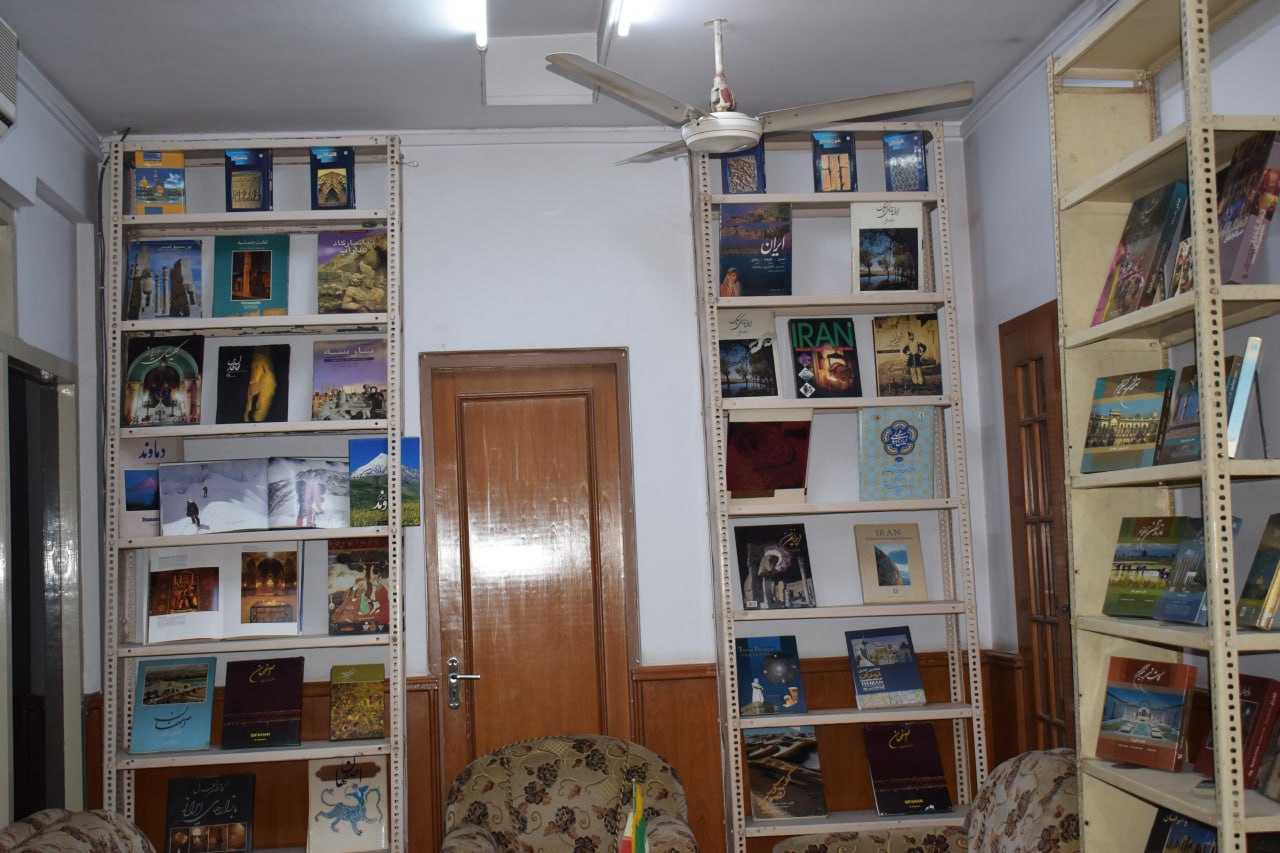 Iranian Studies
Iranian studies also referred to as Iranology and Iranistics, is an interdisciplinary field dealing with the research and study of the civilization, history, literature, art and culture of Iranian peoples. It is a part of the wider field of Oriental studies.
The discipline of Iranian Studies focuses on broad trends in culture, history, language and other aspects of not only Persians, but also a variety of other contemporary and historical Iranian peoples, such as Kurds, Lurs, Gilakis, Talysh, Tajiks, Pashtuns, Ossetians, Baluchis, Scythians, Sarmatians, Khwarazmians, and Mazandaranis. This library has a lot of books on this topic.
Hinduism Studies
Our library offered Research Materials on Hinduism alongwith its philosophy,Teachings, Spirituality and Mystic Doctrine. Books like Law Of Crime and Punishment in Ancient Hindu Society,Brahma worship, Bhagavata Purana,Bhagavad Gita The Divine Message,Spiritual Sayings of Ramakrishna,A Critical Inventory of Ramayana Studies In The World ,etc.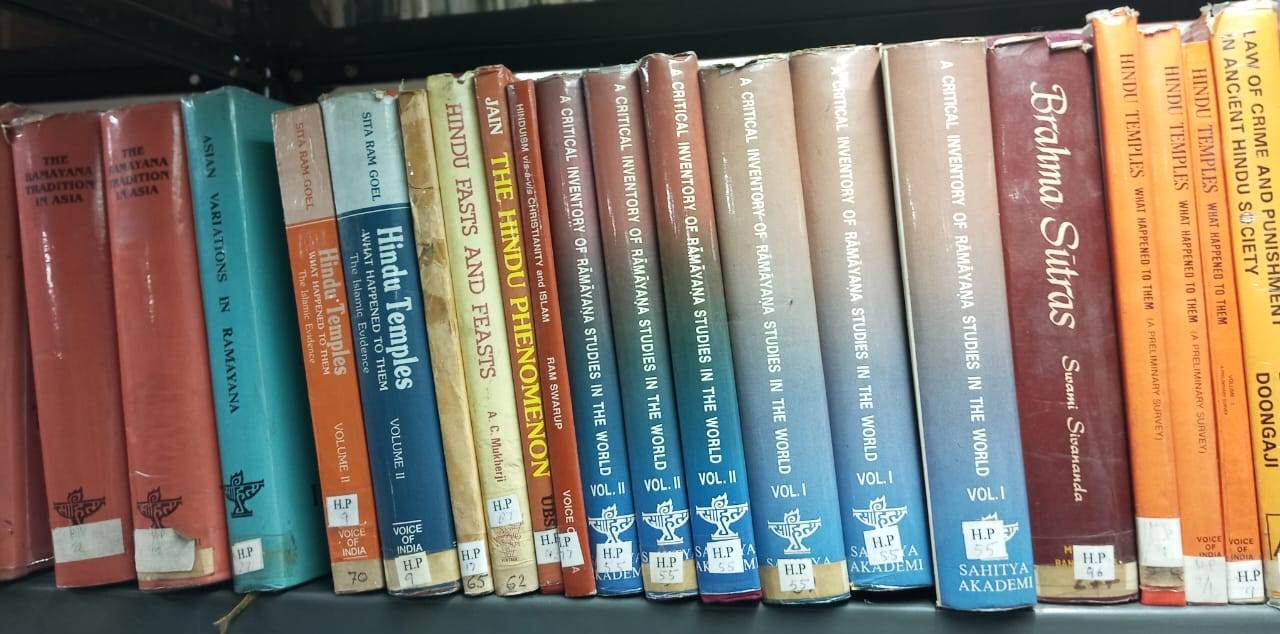 Iranian History
Iran is home to one of the world's oldest continuous major civilizations, with historical and urban settlements dating back to 4000 BC.
Islamic Studies
Slamic Studies is one of the focused subject of this library collection which contain the most important books on the topic of jurisprudence (fiqh), principles, Hadith, Holy Quran and its interpretation.